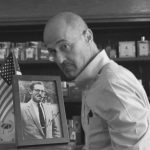 In May 1963, Augusta and James Edwards opened Maison Edwards Tobacconist Shop in Nickel's Arcade, Ann Arbor. The Edwards traveled extensively abroad and supplied the shop with a steady stream of Italian imported tobacco products, which have remained a staple over fifty years later.
After working part-time in the 1980s for Augusta and James while studying, Chuck Ghawi purchased the store in 1991, keeping the tradition that had been well established alive. The shop displays the same historic works of art and paraphernalia that were present when James and Augusta opened it, with the addition of comfortable seating and men's grooming products available for purchase.
With a rich history of clientele and imports, Maison Edwards continues to use original blending techniques established in 1963, as well as a deep-seeded vendor base. Chuck's long-standing relationship with vendors grants patrons exclusive access to tobacco and cigars not found elsewhere, continuing the exceptional tradition established by Augusta and James.
Currently, Maison Edwards offers tobacco imported from Denmark, cigars stored in traditional humidors maintained at 70% humidity and 70 degrees, lighters, pipes, and several comfortable chairs to relax in while you enjoy your purchases.
Maison Edwards. Exceptional tobacco, extraordinary history.